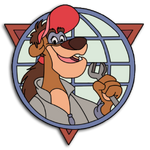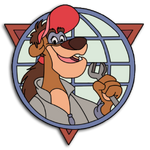 "Vowel Play" is a stub.

You can help TaleSpin Wiki by expanding it.



Vowel Play is the twelfth episode of TaleSpin.
Summary
While he is in school, Kit constantly misspells "spinach" in front of the class, always being corrected by his teacher. Baloo is dismissive of the incident, claiming that correct spelling is overrated. Rebecca objects, particularly as she's decided to hire him out as a skywriter. Despite a disastrous first run, Higher for Hire is contracted by a man named Weazel to write a message.
Though Baloo makes a small error, his message is correct enough for its intended recipients: a pair of raccoon criminals. They prove to be among the many criminals aligned by Heimlich Menudo, a mastermind who stumbled upon coded skywriting messages as a means of instructing his minions. The rising crime rate soon alerts Detective Thursday, who comes to suspect a fiendish plan. Weazel then hires Baloo to skywrite another message for Menudo, unwittingly dropping a code book as he does so.
Baloo's latest corrupt message signals the start of Menudo's plan, the Heimlich Maneuver, and gets him and Rebecca picked up by Thursday. The detective briefly suspects Baloo and Rebecca of orchestrating the plan, unaware that the real scheme is going into effect. A fleet of small blimps carrying Menudo's minions swoops into town, while Thursday discovers that that Baloo has been employed by Weazel, who is a notorious gangster. Thursday decides to take advantage of the situation, only to walk outside to see Menudo's ships swarming above the city.
Then Baloo reveals to the detective that Weazel dropped a book that he hands to Detective Thursday. The detective looks over it and sees it is a list of secret codes that all depend on what Vowel is used in a certain position of a certain word. The next day back at Higher for Hire Weazel shows up with a paper that he wants Baloo to put in the sky. After he leaves the detective comes out and sees that the paper says "Wait Until Dark" on it. He reads out of the book revealing that the word Wait gives the order to blow up the city. So he changes the first word from Wait to Weight. He reveals that if Baloo spells this one correctly it will shut the whole operation down because it will tell them to go out to sea, drop all bombs and deflate the airships.
Then all of a sudden Rebecca takes the piece of paper and uses tape, a stapler and glue to hold it to Baloo's shirt so he does not lose it this time. Baloo and Kit get into the sea duck and go up to start putting the message in the air. Because Baloo can not read the message due to how high up Rebecca put it on his shirt he takes his shirt off in order to read it but the shirt gets sucked out the window. He and Kit start to write it in the sky but because he puts the I and E in the wrong order in the first word the criminals in the blimps are being told to attack City Hall. At this very moment Heimlich and Weazel get into a helicopter and to try to go and communicate with the other criminals. Then all of a sudden Kit remembers from his school lessons that it is I before E except after C unless you are spelling words like Neighbor or Weight. So Kit gets his cloud surfing board out and tells Baloo to help him erase the two letters in the first word and they put them in the proper order. Because of that all the criminals take the blimps out to sea, drop off bombs and deflate just as the detective planned.
Cast
Characters
Heimlich Menudo is the main antagonist of the episode. He is a leopard criminal who worships diamonds so much, he even has some as teeth. Heimlich has a plan called the "Heimlich Maneuver" in order to rob Cape Suzette of all diamonds. He is voiced by the late Kenneth Mars.

Weazel

is the secondary antagonist. He is Heimlich's right-hand weasel (which he doesn't like being called) and is a client of Rebecca Cunningham in her sky-writing business. David Lander voiced him.
Detective Thursday is a supporting character parody of Detective Sergeant Joseph "Joe" Friday from Dragnet. He is a dog detective. Jack Angel did his voice.
Gallery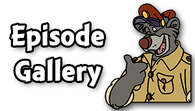 Click here to view this page's gallery.
Errors
-Coming soon.
Trivia
This is the first episode to reveal Kit going to school.
Quotes
Teacher: There is no "ick" in Spinach, Kit.
Kit: Wanna bet? Taste it. Ick!
---
Rebecca: Any idiot can spell "Happy birthday"!
Baloo: Now, Becky, it's the thought that counts.
Rebecca: Thanks to your spelling, we'll never get another customer!
---
Baloo: Becky, that guy's as shifty as a 10-speed clutch.
Mr. Weaselle: Sorry. I was too busy thinking of your Heimlich Maneuver to see that you were choking.
Detective Thursday: Look, a flying bear!
Laundry Woman: So?
Detective Thursday: Um... A flying bear that, uh... juggles bowling balls
Rebecca: Brilliant, Baloo! What were two o's doing in "Chicken Soup?
Baloo: The backstroke?
---
Rebecca: I'm telling you, Baloo, the way you spell is a crime.
Baloo: Gimme a break, Beckers. You're making a federal case out of nothing.
Detective Thursday: Are you the sky-writing pilot?
Baloo: Yup, sure am.
Detective Thursday: You're under arrest.
(🇫🇷-🇨🇦 VERSION):
Je vous le dis, Baloo, votre façon d'épeler est un crime.
S'il vous plaît, Rebecca.Vous faites un cas fédéral à partir de rien.
Es-tu le pilote qui écrit dans le ciel?
Oui, bien sûr.
Vous êtes en état d'arrestation.
[(SPANISH VERSION 🇪🇸/🇲🇽/🇨🇺)]:
Te lo digo, Baloo, tu forma de deletrear es un crimen.
Por favor, Rebecca. Estás haciendo un caso federal de la nada.
¿Eres el piloto de escritura del cielo?
Sí, claro estoy.
Estas bajo arresto.
[(🇭🇹 CREOLE VERSION)]:
Mwen di ou, Baloo, wout la ou eple se yon krim.
Tanpri, Rebecca. Ou ap fè yon ka federal soti nan anyen.
Èske ou pilòt nan syèl-ekri?
Wi, asire w.
Ou anba arestasyon.
[(🇵🇹 VERSION)]:
Eu estou te dizendo, Baloo, o jeito que você soletra é um crime.
Me dê um tempo, Beckers. Você está fazendo um caso federal do nada.
Você é o piloto de escrita do céu?
Sim, claro que sim.
Você está preso.
---
Detective Thursday: I want the truth about those sky-written messages. Talk!
Baloo: [Thinking he's talking about his bad spelling] All right. Okay. I confess. I'm the one you're looking for.
Detective Thursday: I knew it! How long as this been going on?
Baloo: Since 3rd Grade. My teacher said I'd be sorry someday.
Detective Thursday: Started on the road to ruin young, eh?
(🇫🇷-🇨🇦 VERSION):
Je veux la vérité sur ces messages écrits dans le ciel. Parler!
D'accord. D'accord. J'avoue. Je suis celui que vous recherchez.
Je le savais! Depuis combien de temps cela dure-t-il?
Depuis la 3ème année. Mon professeur a dit que je serais désolé un jour.
Commencé sur la route pour ruiner les jeunes, hein?
[(SPANISH VERSION 🇪🇸/🇲🇽/🇨🇺)]:
Quiero la verdad sobre esos mensajes escritos en el cielo. ¡Hablar!
Todo bien. Bueno. Yo confieso. Soy el que estás buscando.
¡Lo sabía! ¿Por cuánto tiempo ha estado sucediendo esto?
Desde el 3er Grado. Mi maestro dijo que algún día lo lamentaría.
Comenzó en el camino para arruinar joven, ¿eh?
[(🇭🇹 CREOLE VERSION)]:
Mwen vle verite a sou mesaj syèl-ekri yo. Pale!
Tout dwa. Dakò. Mwen konfese. Mwen se youn nan ou ap chèche pou.
Mwen te konnen sa! Konbyen tan sa a te ale sou?
Depi klas 3èm ane. Pwofesè mwen te di mwen ta dwe regrèt yon jou.
Te kòmanse sou wout la nan kraze jèn, eh?
[(🇵🇹 VERSION)]:
Eu quero a verdade sobre essas mensagens escritas no céu. Conversa!
Tudo certo. OK. Eu confesso. Eu sou aquele que você está procurando.
Eu sabia! Há quanto tempo isso vem acontecendo?
Desde o 3º ano. Meu professor disse que um dia eu sentiria muito.
Começou na estrada para arruinar jovens, hein?
---
Detective Thursday: Pathetic! I've never seen such awful grades in my life.
Baloo: Hey! I passed recess with flying colors.
(🇫🇷-🇨🇦 VERSION):
Pathétique! Je n'ai jamais vu d'aussi mauvaises notes dans ma vie.
Hey! J'ai passé la récré avec brio.
[(SPANISH VERSION 🇪🇸/🇲🇽/🇨🇺)]:
¡Patético! Nunca he visto tan malas calificaciones en mi vida.
¡Oye! Pasé el recreo con gran éxito.
[(🇭🇹 CREOLE VERSION)]:
Pathetic! Mwen pa janm wè klas terib sa yo nan lavi mwen.
Aiye! Mwen te pase rekreyasyon ak koulè vole.
[(🇵🇹 VERSION)]:
Patético! Eu nunca vi tantas notas terríveis na minha vida.
Ei! Passei pelo recreio com cores voadores.
---
Baloo: Look, I proved I'm a lousy speller. What more do you want? All I did was write a few messages for Mr. Weasel.
Detective Thursday: You know Weasel? Sneaky-looking guy in a bad suit, one of this town's biggest gangsters?
Baloo: Yeah, yeah, and I can prove it. He dropped this. [shows Thursday the code book]
Detective Thursday: [looks through the book] Why, this is a book of secret codes.
Rebecca: Detective, I promise the next time Weasel shows up to give us another skywriting assignment, we'll refuse.
Detective Thursday: Negative. Now that we've got his code book, I want you to play along. You're working for us now, Baloo.
Mr. Weaselle: Here is the last message you'll ever need to sky-write: "Wait until dark."
Baloo: Okay. But if I write if after dark, it'll be kinda hard to read.
Baloo: Well, Beckers, it just goes to show it pays to know your ABDs.
Parental Advisory
At least one female bystander is seen wearing a low-cut dress. Baloo appears briefly without his shirt, though it's no different from the model of his The Jungle Book countepart.
External Links
-Coming soon.