The Idol Rich is the thirteenth episode of The Disney Afternoon animated series, TaleSpin.
It first premiered on June 16, 1990 on the Disney Channel before making its syndication premiere on September 20, 1990.
Synopsis
During a treasure hunt, Baloo and Kit learn the importance of brain over brawn in order to get a valuable idol back from Colonel Spigot.
Summary
After Kit gets a black eye and a busted airfoil from a run in with some thugs, Baloo gives him some tips about using his head instead of his fists when he gets into trouble. Baloo then tries-quite unsuccessfully-to con Rebecca into letting him take some time off, but she allows him to use time off that he's earned to go on the latest in a series of treasure hunts mean to enable him to regain ownership of the Sea Duck. Flying to Louie's Place, Kit and Baloo discover that their quarry-a legendary lost idol-has drawn quite a bit of attention due to 13 million torbit reward being offered for its return by the Sultan of Kafusaleum. After learning from Louie that the idol is thought to be located in the Land of 1,001 Lakes, the pair are greeted by their latest competition: a force of Thembrian soldiers led by Colonel Spigot.
Spigot announces his intentions to claim the idol for Thembria, and has his men hold Baloo upside down when Baloo makes a smart remark. In doing so, he inadvertently helps Baloo guess at the truth behind a clue at the idol's location: "It's right under your nose". The "nose" in question happens to be Moose Lake, which resembles a nose with a mustache beneath it when viewed from a certain angle. Baloo and Kit quickly fly to the lake, only for the Sea Duck to go out of control when it tries to land on the oily lake surface.
Baloo and Kit head for land, and make their way into a desolate swamp where bubbles pop with fiery explosions. They locate the idol and survive its protective booby traps, only for Spigot and his men-who have followed the pair-to steal it from them and lock them in a cage above the swamp. Fortunately, Kit is able to swing the cage to a nearby tree branch, and the fire intended to slay them instead frees them from their confinement. Trailing Spigot back to Louie's, Baloo tries to retake the idol by force, contrary to his own earlier advice to Kit. After multiple failed attempts, Kit is able to jog his memory, and Baloo decides to take another approach.
As Spigot prepares to leave for Thembria, to which he is taking back the idol for display in the Thembrian National Museum, Baloo appears in disguise and warns him that the object is cursed. Spigot refuses to believe the claims, but secures the idol inside a locked cabinet. Baloo and Kit then board his plane in the air, and begin efforts to convince Spigot that the idol is attempting to drive him mad. Despite attempts to put on a brave front, Spigot begins to crack under the pressure, before settling down in hopes that a nap will enable him to relax.
Thanks to Kit and Baloo's continued pranks, Spigot awakes to find his flight chair on the wing of the plane and the orientation of his cabin reversed. He promptly hurls the idol from the plane only for Kit and Baloo to catch it and fly off, much to his chagrin. Claiming the reward, Baloo calls Rebecca to give her the news that he now has the means to buy back the Sea Duck from her. He is forced to eat his words, however, when Louie determines that Baloo's newfound wealth is exactly equal to the amount owed on his tab.
Gallery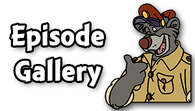 Click here to view this page's gallery.
Errors
-Coming soon.
Trivia
Two of the Land of 1,001 Lakes' eponymous bodies of water are named Arthur Lake and Veronica Lake, after the actor and actress.
Quotes
Baloo: When you're outmuscled, you've got to outthink 'em. Smart, subtle and trickier than a bathtub full of jello.
(🇫🇷-🇨🇦 VERSION):
Lorsque vous êtes dépassés, vous devez les devancer. Intelligent, subtil et trekkier qu'une baignoire pleine de jello.
[(SPANISH VERSION 🇪🇸/🇲🇽/🇨🇺)]:
Cuando estás fuera de juego, tienes que pensar en ellos. Inteligente, sutil y trekkier que una bañera llena de gelatina.
[(🇭🇹 CREOLE VERSION)]:
Lè w ap outmuscled, ou te gen nan outthink 'em. Smart, sibtil ak trekkier pase yon basen plen jello.
[(🇵🇹 VERSION)]:
Quando você está fora, você tem que pensar nisso. Inteligente, sutil e trekkier do que uma banheira cheia de gelatina.
---
Baloo: So you see, Rebecca, this sick aunt of mine really needs my help and I thought--
Rebecca: What was this aunt's name again, Baloo?
Baloo: Uh... Er... Um... Milly! Yeah, that's it! Aunt Milly.
Rebecca: Milly. That makes 23 sick aunts in the last six months.
Baloo: Er... Well, you see... Pop's side of the family was never very healthy.
Rebecca: It's another treasure hunt, isn't it?
(🇫🇷-🇨🇦 VERSION):
Alors tu vois, Rebecca, ma tante malade a vraiment besoin de mon aide et je pensais ...
Comment s'appelait à nouveau cette tante, Baloo?
Milly! Ouais c'est ça! Tante Milly.
Milly. Cela fait 23 tantes malades au cours des 6 derniers mois.
Comme tu vois... Le côté de la famille Pop n'a jamais été très sain.
C'est une autre chasse au trésor, n'est-ce pas?
[(SPANISH VERSION 🇪🇸/🇲🇽/🇨🇺)]:
Así que ya ves, Rebecca, esta tía enferma realmente necesita mi ayuda y pensé ...
¿Cuál era el nombre de esta tía otra vez, Baloo?
Milly! ¡Si eso es! Tía milly
Milly. Eso hace 23 tías enfermas en los últimos 6 meses.
Bueno, ya ves ... El lado de la familia del papa nunca fue muy saludable.
Es otra búsqueda del tesoro, ¿no?
[(🇭🇹 CREOLE VERSION)]:
Se konsa, ou wè, Rebecca, matant sa a malad nan m 'reyèlman bezwen èd mwen ak mwen te panse--
Ki sa ki te non matant sa a ankò, Baloo?
Milly! Wi, sa se li! Aunt Milly.
Milly. Sa fè 23 matant malad nan sis mwa ki sot pase yo.
Oke, ou wè ...Pop pòp nan fanmi an pa t 'janm an sante.
Li se yon lòt lachas trezò, se pa li?
[(🇵🇹 VERSION)]:
Então você vê, Rebecca, esta minha tia doente realmente precisa da minha ajuda e eu pensei--
Qual era o nome dessa tia novamente, Baloo?
Milly! Sim, é isso! Tia Milly.
Milly Isso faz 23 tias doentes nos últimos 6 meses.
Bem, você vê ... O lado da pop da família nunca foi muito saudável.
É outra caça ao tesouro, não é?
---
Baloo: Never trust a bubble you don't blow yourself.
(🇫🇷-🇨🇦 VERSION):
Ne faites jamais confiance à une bulle qui ne vous fait pas exploser.
[(SPANISH VERSION 🇪🇸/🇲🇽/🇨🇺)]:
Nunca confíes en una burbuja que no te hagas explotar.
[(🇭🇹 CREOLE VERSION)]:
Pa janm mete konfyans yon jarèt ou pa kònen tèt ou.
[(🇵🇹 VERSION)]:
Nunca confie em uma bolha que você não exploda.
---
Kit: How'd you find us anyway?
Col. Ivanod Spigot: (Chortle) I simply examined the clues and my scintillating intellect deciphered where the idol was hidden.
Sgt. Dunder: Yeah. And then we followed ya.
(🇫🇷-🇨🇦 VERSION):
Comment vous nous avez trouvé quand même?
J'ai simplement examiné les indices et mon intellect scintillant a déchiffré où l'idole était cachée.
Ouais. Et puis nous vous avons suivi.
[(SPANISH VERSION 🇪🇸/🇲🇽/🇨🇺)]:
¿Cómo nos has encontrado de todos modos?
Simplemente examiné las pistas y mi intelecto centelleante descifraba dónde estaba escondido el ídolo.
Sí. Y luego te seguimos.
[(🇭🇹 CREOLE VERSION)]:
Ki jan ou jwenn nou de tout fason?
Mwen tou senpleman egzamine endikasyon yo ak entelektyèl scintillating mwen deciphered kote idol la te kache.
Wi. Lè sa a, nou swiv ya.
[(🇵🇹 VERSION)]:
Como você nos achou assim mesmo?
Eu simplesmente examinei as pistas e meu intelecto cintilante decifrou onde o ídolo estava escondido.
Sim. E então nós seguimos você.
---
Kit: I don't suppose you have a knife?
Baloo: Sorry, Kit, the closest thing I've got is a shoulder blade.
(🇫🇷-🇨🇦 VERSION):
Je suppose que tu as un couteau?
Désolé, Kit, la chose la plus proche que j'ai est une omoplate.
[(SPANISH VERSION 🇪🇸/🇲🇽/🇨🇺)]
Supongo que no tienes un cuchillo.
Lo siento, Kit, lo más cercano que tengo es un omóplato.
[(🇭🇹 CREOLE VERSION)]:
Mwen pa kwè ou gen yon kouto?
Padon, Kit, bagay ki pi pre mwen te gen se yon lam zepòl.
---
Col. Spigot: I found it! Of course, you were holding it at the time but you proved no match for Spigot, the might that makes right.
Baloo: The only right you should worry about is mine. And my left too.
Louie: Hey, Baloo, ol' palooka. You want any backup?
Baloo: Thanks, Louie, but this is between me and them.
Louie: What Baloo needs between him and them is about three inches of concrete.
Colonel Spigot: Gentlemen, there is a flyboy in my soup.
Baloo: [Disguised as a fakir, he bows] It's you! It's you, O you horrible shrunken beast of supernatural of nastiness!
Colonel Spigot: What is the meaning of this?!
Sergeant Dunder: Are you speaking of Colonel Spigot?
Baloo: Oh, no, round one. I am speaking to the other horrible shrunken beast of supernatural nastiness.
External links
-Coming soon.