Katie Dodd (voiced by Ellen Gerstell) is a female archaeologist in TaleSpin. She only appeared in the two-part episode "For Whom the Bell Klangs. She is voiced by Ellen Gerstell.              
Appearance:
She has curly red hair and a fox tail and wears an archaeologist's outfit.
Personality:
This tall, feisty and voluptuous redhead has as much attitude as she does in looks and intelligence, since she is prone to stand-offish behavior and not afraid to tell any man to go jump in a lake. However, this did not stop Baloo and Louie from showing off for her in a futile attempt to compete for her attentions.
Gallery: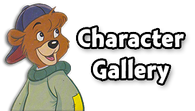 Click here to view this page's gallery.
External links