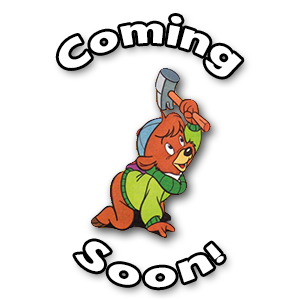 The City Hall is the lead building in Cape Suzette.
Description
Cape Suzette's municipal government meets in City Hall, the building that holds the offices of administration. This city headquarters is part of a downtown center that plays host once a year to the Cape Suzette Friendship Festival. Within the storied power structure of City Hall, elected officials execute their sworn duties of civic management in a microcosm of Usland's federal system. Departmental agencies include the police and fire departments, public works, and the Board of Aviation. Though clear of corruption, City Hall traditionally squares off against irate locals and newspaper columnists who want their leaders to assert authority over special interests and big business. City Hall has come under real attack also, during a citywide coup attempted by crime kingpin Heimlich Menudo.
Public figures
The governing body of Cape Suzette is made up of representatives appointed to office by an elected leader — the same process that occurs on a national scale with Usland's president and his cabinet. Winning candidates assign aides in city council and district offices, to oversee the workings of a metropolis that is home to a million people.
The perennial reelection of Cape Suzette's mayor points to his fulfilled pledges and tireless public involvement (even if he strikes one as somewhat inapt for the role). Other civic duties rest on the shoulders of councils such as the Aviation Board, and community associations like the Chamber of Commerce (led by Mrs. John D. Rockefeather, committee chairwoman). Members of these groups attend social galas such as the Pilot's Ball, the Air Police Ball, and the Businessman's Ball.
Gallery
External links